Pandya Store: Raavi Shiva's changing room eyelock romance (Upcoming Twist)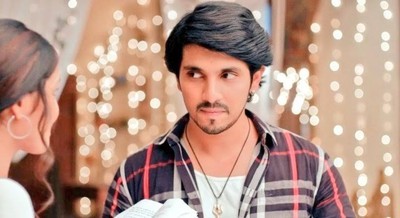 Pandya Store: Shiva (Kunwar Dhillon) and Raavi's (Alice Kaushik) eyelock romance in green room
Star Plus popular daily soap Pandya Store is gearing up for interesting twist and drama.
Shiva and Raavi are moving ahead and things are changing, Raavi loves Shiva and vice versa.
Disha's entry twist has started to make them realise it, here Rishita and Dhara plans next move.
Dhara and Rishita asks Raavi to help Shiva with his torn dhoti and she puzzled.
Shiva and Raavi's big chaos
Shiva and Raavi are left with no option and gets in the green room together.
Raavi and Shiva shares an eyelock when Raavi sews the dhoti and Shiva thanks her.
Raavi is puzzled as Shiva had never thanked her and this time he thanks her and she doesn't say much and smiles at Shiva.
What more is cooking up in Raavi and Shiva's relationship next, stay tuned for more exciting updates only on entertainment news website serialgossip.com