BALH 2: Shivina throws tantrum Ram turns world upside down (Upcoming Twist)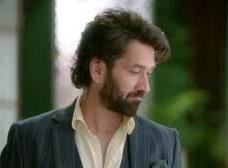 Bade Ache Lagte Hai 2: Shivina throws tantrum in front of Ram
Sony Entertainment daily popular show Bade Ache Lagte Hai season 2 is revolving around Ram and Priya's marriage celebration.
It seems that Shivina will ask Ram to get some cupcakes for her in midnight as it's her last wish before her marriage.
He will unknowingly call up at Priya's bakery to order the cake and will agree to give premium changes and even buy all the cupcakes.
Priya will not want to say no as it's a very lucrative offer and will agree to open her bakery late at night.
Ram Priya shocked to see each other
Ram will be shocked to know that the bakery belongs to Priya.
Even Priya will not be able to believe her eyes when she sees Ram standing outside her bakery midnight for cakes.
Will Ram and Priya be able to bond with each other over the cupcakes or not?
For more exciting updates, stay tuned to Serialxpress.com.
Latest Bade Acche Lagte Hai 2 Updates