Nima Denzongpa: Nima unable to repay loan gets threatened by goons (Upcoming Twist)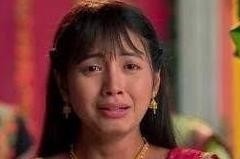 Nima Denzongpa: Nima unable to pay loan back
Colors daily popular show Nima Denzongpa is revolving around the struggle in Nima's life.
It seems that Nima's daughters will bring for her a scooty as a gift on her birthday.
However Nima will get angry on them for buying such an expensive gift for her.
She will ask her daughters to return the scooty and bring back the money.
However things will not go as planned as the scooty will go missing.
Nima falls in trouble
Nima and her daughters will go to the place from where they took the scooty and will inform them about the fact that they scooty is missing and hence they will not be able to repay the loan.
However the owner of the shop will not agree to listen to Nima and will ask her either to return the scooty or pay back the loan.
Will Nima be able to get her scooty back or not?
Stay tuned for more such updates only on Serialxpress.com.