Anupamaa: Devika encourage Anupamaa to choose self respect over family (Upcoming Twist)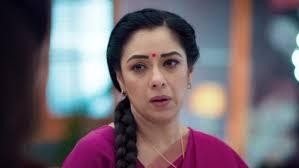 Anupamaa: Devika makes Anupamaa take a stand
Star Plus show Anupamaa is revolving around the entire Shah family against Anupamaa.
It seems that Babuji Samar and Kinjal are the only people who love and understand the pain that Anupamaa is going through in her personal life.
They will ask Devika to talk to Anupamaa and convince her to take the offer made by Anuj.
Devika will be seen talking to Anupamaa and making her realise about her own dreams and aspiration before others.
Anupamaa will not want to go against her family and break everyone's heart but Devika will make her realise that her family is selfish and will never bother about her likes and dislikes and hence she needs to take a stand for herself.
Anupamaa makes hard decision
Anupamaa will realise her mistake and will choose her self respect above the fake happiness of her family.
Will Vanraj be able to digest the truth or not?
Stay tuned for more such updates only on Serialxpress.com.