YRKKH: Narendra calls Sirat's child illicit shocking character assassination ahead (Upcoming Twist)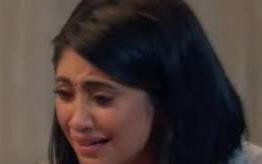 Yeh Rishta Kya Kehlata Hai: Narendra denies Sirat having Ranveer's child
Star Plus show Yeh Rishta Kya Kehlata Hai is focussing on Ranveer's imminent end.
It seems that Sirat will get the biggest shock of her life as she will come to know that the person she loves the most is going to leave her forever.
The show will soon witness a shocking twist as Sirat will faint and later the doctor will announce her pregnancy.
Narendra will not accept the child and in fact point fingers on her character and tags the child as illicit.
Sirat reveals pregnancy news
This will have a huge impact on Sirat as this child is Ranveer's last gift to her.
Kartik on the other hand is devastated as he cannot help Sirat in her lowest time.
Keep watching this site to know what more is coming up in the show.
Latest Yeh Rishta Kya Kehlata Hai Updates