Mehndi Hai Rachne Waali: Raghav Pallavi go to Deshmukh house to reveal Sunny's truth (Upcoming Twist)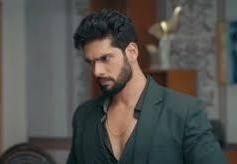 Mehndi Hai Rachne Waali: Raghav Pallavi reveal truth to Vijay
Star Plus show Mehndi Hai Rachne Waali is revolving around Raghav and Pallavi's life.
It seems that Raghav and Pallavi will go to Deshmukh house to tell them the truth about the night Mandar went missing.
Raghav and Pallavi will try to bring a closure to Vijay and hence tell him how Mandar died and will further inform him that his real murderer is thrown behind the bars.
Milind will be very happy to know the truth and will taunt Vijay for not trusting Pallavi.
Vijay fail to trust Pallavi
However Vijay will still not believe Raghav and Pallavi as he feels that the duo might have bribed Sunny to own up the crime.
Will Vijay be able to accept the truth or not?
Stay tuned for more updates only on Serialxpress.com.
Latest Mehndi Hai Rachne Waali Updates