Ghum Hai Kisi Ke Pyaar Mein: Sai takes Virat's secret love test (Upcoming Twist)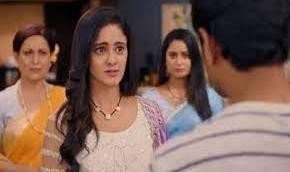 Ghum Hai Kisi Ke Pyaar Mein: Sai takes Virat's test
Star Plus show Ghum Hai Kisi Ke Pyaar Mein is focussing on Virat and Sai's married life.
It seems that after college Sai will go to visit Pulkit and Devyani and will discuss about her fight with Pakhi and Virat.
It will become late in the evening and therefore Pulkit will insist Sai to stay back in his house.
He will ask Sai to inform the Chavans and Virat that she is going to spend the night in his house as they might worry.
Sai gives Virat last chance
However Sai will not listen to Pulkit and will not inform Virat about her whereabouts as she wants to see whether he will search for her or not?
Will Virat be able to win this test or not?
Make sure you check out Serialxpress.com because we update you every minute.
Latest Ghum Hai Kisi Ke Pyaar Mein Updates