Mehndi Hai Rachne Waali: Pallavi cute gesture to unite Raghav Kirti (Upcoming Twist)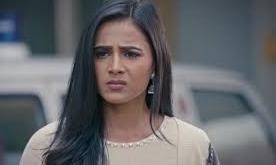 Mehndi Hai Rachne Waali: Pallavi special gift to Kirti
Star Plus show Mehndi Hai Rachne Waali is going to witness some cute moments between Raghav and Pallavi.
It seems that Raghav will ask Pallavi a favour as he wants to gift Kirti a diamond necklace on her birthday but doesn't want to do to it himself as he feels that Kirti will not take the gift from his hand.
Later Pallavi will plan to make Kirti wear the necklace but purposefully she will hurt her fingers so that Raghav can make her wear the necklace.
Pallavi makes Raghav Kirti come close
Raghav will understand that Pallavi is doing all this purposefully so that Raghav can make Kirti wear the necklace on his own.
Raghav will be very happy with Pallavi's cute gesture as due to her efforts he has come close to his family.
Stay tuned for more updates only on Serialxpress.com.
Latest Mehndi Hai Rachne Waali Updates