Shaurya Aur Anokhi Ki Kahani: Anokhi senses Babli in danger Vineet hides truth (Upcoming Twist)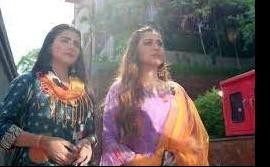 Shaurya Aur Anokhi Ki Kahani: Babli in danger due to Vineet
Shaurya Aur Anokhi Ki Kahani is going to witness some high voltage drama.
It seems that Anokhi is upset over the fact that Shuraya has gone missing.
She will share her concern with Babli and the two will have a deep conversation.
Later Babli will see Vineet flirty with Kanchan and gets angry.
However things will soon go out of control as Anokhi will go to Babli's room to talk to her sister.
Anokhi will ask for Babli but Vineet will tell her that she has gone to sleep.
Anokhi will find this fishy as Babli had met her a few minutes back.
Vineet in deep trouble
Vineet is up to something as he doesn't allow Anokhi to enter the room.
Anokhi will sense that something is wrong and her sister can be in danger.
What will happen next in Shaurya Aur Anokhi Ki Kahani?
Keep reading Serialxpress.com for more details.