Ishq Mein Marjawan 2: Riddhima after yellow gloved person catches Kabir (Upcoming Twist)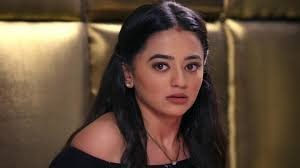 Ishq Mein Marjawan 2: Riddhima (Helly Shah) after culprit, catches Kabir (Vishal Vashishtha)
Colors popular daily soap Ishq Mein Marjawan 2 is gearing up for interesting twist in the story.
Vansh and Riddhima were attacked while now Riddhima is out of danger but worried.
Vansh asks Riddhima to not worry as he will handle everything, Vansh tells Riddhima to not doubt his family.
Riddhima has doubt over Ishani while now Mrs Dsouza tells Riddhima about yellow gloved person being in store room.
Riddhima and Kabir's new dhamaka
Kabir was talking to his partner and asks him to do as he says and make Riddhima doubt someone.
Here Riddhima marks entry in store room to catch that culprit and finds Kabir there, will Riddhima be able to find the truth Kabir is hiding.
What more drama and twist is awaited ahead, stay tuned for more exciting updates only on entertainment news website serialxpress.com
Latest Ishq Mein Marjawan 2 Updates