OMG Sony TV show Sargam Ke Sade Sati goes off air (Top News)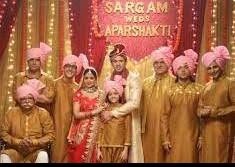 Sony TV show Sargam Ke Sade Sati to go off air
Just like last year the lockdown has once again had a huge impact on the television industry as many shows are being discontinued abruptly.
It was earlier revealed that Sony TV's Story 9 Months Ki is all set to go off-air abruptly.
And now it seems another Sony TV show Sargam Ke Sade Sati might also bear the brunt of COVID-19 pandemic and may go off-air soon.
Sargam Ki Sade Saati is a show based on a girl who after falling in love with a middle-class man, gets to know that his family has no women and has 7 1⁄2 men.
Actors disappointed over sudden pull off
The show a sequel of Saas Bina Sasural.
The show went on-air only over a couple of months ago in February.
Latest Sargam Ke Sade Sati Updates