Yeh Rishta Kya Kehlata Hai 9th May 2022 Written Update Harsh hears Harsh (Serial Update)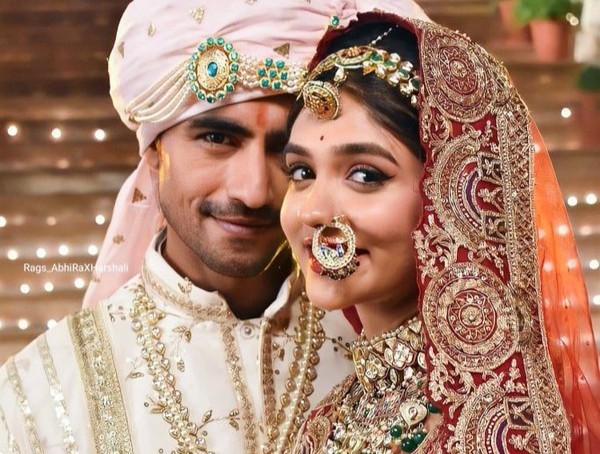 Yeh Rishta Kya Kehlata Hai 9th May 2022 Written Update Akshara hears Harsh
Abhimanyu gets smitten looking at Akshara. She descend down the stairs covering her face with a veil. Abhimanyu gets emotional seeing her.
She gives her hand to him and they both walk together. She does few steps and reveals her face. They join hands again. She sings a song for him.
Abhimanyu and Akshara are lifted during the Varmala. Akshara teases him. They both finally exchange Garlands.
Suhasini tells them the first Ritual is done. She says that they have to sit in the Pooja for long. She asks them to play if they wants.
Neil says that he won't let Akshara's Siblings steal the shoes. Abhimanyu says to Akshara he wants to steal as well.
Aarohi tells that she won't steal and asks him to hide himself. She then tells Akshara that she will steal but warns her not to tell Abhimanyu. Abhimanyu asks Neil to make it interesting.
Both Abhimanyu and Akshara does the Photoshoot. They both tease with each other.
Neil tells her that he wants to apply Kalatika to her. He says that he is Laxman. He says he wants to wash her feet. He asks her to remove her Sandal.
Akshara removes her Sandal and they steal her Sandal. He applies Kumkum to Aarohi and tells her that he stole her Sandal.
They ask Akshara to pay them more than Twenty Thousand. Shefali asks for Five Lakhs. Neil makes it to Ten Lakhs.
Abhimanyu lifts Akshara in his Arms
Abhimanyu supports them. He tells her he is having fun. Manjiri gets Happy. Suhasini asks to continue with the Rituals.
Akshara tells him that she can't walk without Sandals. Neil denies to give her. Abhimanyu tells her that he can help her to take till Mandap and lifts her in his arms.
They both go into the Mandap and Suhasini asks Pandit to start the Ritual. Manish tells his Wife that he can't believe that their Children's Child is getting Married.
Abhimanyu and Akshara think that this is the moment they have been waiting for. The Ritual starts.
Precap:
The Pandit asks to call the Parents of the Bride. Akshara says that Kairav will do the Ritual.
A Guest says to Harsh and Mahima that he got to know that Akshara is not the Doctor. Harsh says that it's Love Marriage. He says that he didn't try and reject every Alliance. Akshara hears it.
Stay Tuned to Serialxpress.com for the latest updates of your favourite shows.