Kuch Rang Pyaar Ke Aise Bhi actress Erica Fernandes quits show details ahead (Latest News)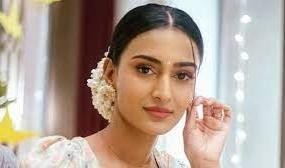 Kuch Rang Pyaar Ke Aise Bhi fame actress quits show
Erica Fernandes is huge name in television industry.
She is currently part of Sony Entertainment most loved show Kuch Rang Pyaar Ke Aise Bhi where she is playing the lead opposite Shaheer Sheikh.
The actress is currently under radar as she has decided to quit the show.
Erica penned a long note where she mentioned how she is grateful for the love and support of her fans.
She wrote: Sometimes when you have to choose between your self-respect and a show so dear.. you have to make hard decisions. (not mentioning the various other reasons) And you can't always take others responsibilities on your shoulders, you have to look after yourself and make choices based on that. I always give time to see if things change but when they don't, then you know you can't force someone to value you but you can choose to not be disrespected and move on to better things ahead.
Erica choose self respect
She concluded by saying: I would like to thank all those who have supported me through this journey and my decisions be it my team or my Ejfians and KRPKABians.
Stay tuned for more such updates.
Latest Kuch Rang Pyar Ke Aise Bhi 3 Updates