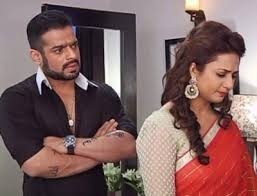 Yeh Hai Mohabbatein: Ishita(Divyanka Tripathi)-Mihika-Aliya shocked seeing nighty gift in Bhalla house
The upcoming episode of Yeh Hai Mohabbatein will witness alot of twist and turns.
All the members of the family are having breakfast on table just then men comes with a parcel.
Ishita recieves it and then she opens it, she gets shocked to see nighty.
Mihika doubts Romi for bringing the nighty for her but he refuses and says that Adi must have bought it for Aliya.
Romi doubts Adi for bringing nighty for Aliya
But Adi also refuses and says that he did not bought any nighty for Aliya.
Then Ishita thinks that Sohail must have sent this nighty for Ruhi.
Ishita get really angry and keeps the nighty in the packet with anger.
It will be interesting to see that what will Ishita do now.
Stay tuned for the upcoming twist.