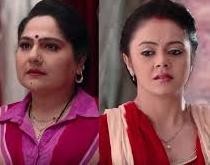 Saath Nibhana Saathiya: Urvashi reaches temple for exposing Gaura before Gopi(Devoleena Bhattacharjee)
The upcoming episode of Saath Nibhana Saathiya will witness alot of twist and turns.
Guara kidnaps Urvashi and plans to kill her on Makarsakranti.
But Urvashi escapes from her trap and reaches temple for telling Gopi about Gaura's evilness.
Before Urvashi could say anything Gaura's goons slashes her throat and runs away from there.
Gopi gets shocked and reaches there to take Urvashi to hospital.
Gopi turns Urvashi's saviour
Gopi goes to her car but then she realizes that she has left the keys inside the car.
Gopi gets worried and thinks that now how will she take Urvashi to hospital, she calls Jaggi for help but he does not hears.
Then Gopi turns horse rider for saving Urvashi's life, she rushes Urvashi to hospital.
Stay tuned for the upcoming twist.