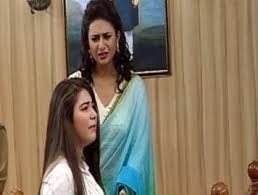 Yeh Hai Mohabbatein: Ishita(Divyanka Tripathi)-Raman's (Raman Patel) over-caring attitude makes Ruhi furious
The upcoming episode of Yeh Hai Mohabbatein will witness alot of twist and turns.
Ruhi goes out of the house for some work but she does not tell anyone that where is she going,
So then Ishita gets worried for Ruhi as she does not wants Sohail to harm her.
So then she starts calling Ruhi but she does not picks her calls then Ruhi comes home.
Ishita scolds Ruhi for going away from home without telling anyone
Ishita scolds Ruhi and says that she must have told someone before going out of the house.
Ruhi gets furious hearing this as she has got irritated seeing Ishita-Raman's over caring attitude.
Ruhi bursts out in anger in Ishita for being over protective.
Stay tuned for the upcoming twist.