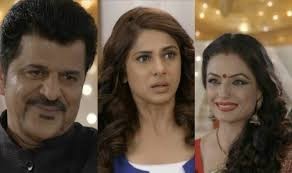 Beyhadh: Arjun (Kushal Tandon) jumps in water for saving Maya(Jennifer Winget)-Jhanvi's life
The upcoming episode of Beyhadh will witness alot of twist and turns.
Ashwin makes evil plan for killing Maya.
Ashwin informs Maya that Jhanvi has run away from house to commit suicide.
Maya gets shocked and rushes from the house to save Jhanvi.
Ashwin and Jhanvi decides that when they cannot live together atleast they can die together.
So they both stands on thr railing to jump into water but Ashwin pushes Jhanvi and he himself does not jumps in water.
Maya jumps in water for saving Jhanvi
Just then Maya reaches, she jumps in water to save Jhanvi.
Ashwin get happy to think that now Maya will die as she does not know how to swim.
Just then Arjun reaches there for saving Maya and he jumps into water.
It will be interesting to see whether Arjun is able to save Jhanvi and Maya or not.
Stay tuned for the upcoming twist.