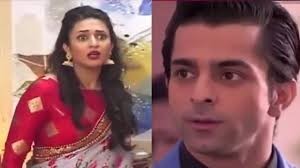 Yeh Hai Mohabbatein: Sohail goes for meeting Nidhi in jail post killing Chacha ji
The upcoming episode of Yeh Hai Mohabbatein will witness alot of twist and turns.
Nidhi has sent her brother Sohail for taking revenge from Bhalla family for their father's death.
Sohail kills Chacha ji for giving information about him to Ishita.
Later he goes for meeting Nidhi in jail just then Ishita by chance sees himm going in jail.
Ishita follows him to see that what is he doing here.
Ishita follows Sohail seeing him outside jail
Ishita gets shocked to see that Sohail has come to meet Nidhi.
Ishita thinks that it means Sohail and Nidhi are doing all these things together.
It will be interesting to see that how will Ishita expose him before Ruhi.
Stay tuned for the upcoming twist.