Home
›
Gossip
Ishqbaaz twist: Om supports Tej-Swetlana with hidden intention Upcoming Twist
Tuesday, January 10 2017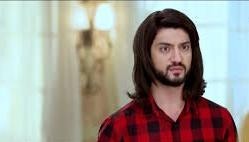 Ishqbaaz: Om stops Tej-Swetlana from leaving Oberoi mansion with hidden intentions
The upcoming episode of Ishqbaaz will witness alot of twist and turns.
Tej gets angry as he thinks that Jhanvi pushed Swetlana from stair because she does not want her to stay in the house.
Tej decides to go from the house with Swetlana as no one wants her to stay in the house.
Jhanvi shocked as Om stops Swetlana from leaving Oberoi mansion
Jhanvi try to stop Tej but he does not stops just then Om comes there and stops Swetlana-Tej with hidden intentions.
Jhanvi and all the members of the Oberoi family gets shocked.
Swetlana and Tia gets happy as their plan works and Swetlana does not have to go anywhere from Oberoi mansion.
Stay tuned for the upcoming twist.
» Ishqbaaz Latest News, updates