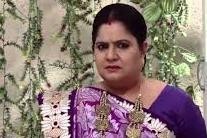 Saath Nibhana Saathiya: Gaura's evilness gets exposed before Urvashi
The upcoming episode of Saath Nibhana Saathiya will witness alot of twist and turns.
Urvashi comes to Gaura's house in the naamkaran function of Meera's babies.
So Urvashi gets to know about Gaura's evil intentions so she was goin to expose her before Modi family.
But Gaura stops her by hitting flower vase on her head, she faints and then Gaura kidnaps her.
Gaura will slash Urvashi's throat and kill Urvashi
Soon Gaura will kill her by slashing her throat on the day of Makarsakranti.
Gaura has planned to kill Urvashi because she does not wants Urvashi to expose her before everyone and spoil her revenge plan.
It will be interesting to see if Jaggi is able to save Urvashi from Gaura or not.
Stay tuned for the upcoming twist.