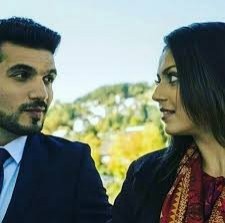 Pardes Mein Hai Mera Dil: Naina(Drashti Dhami) happy as Veer washes Raghav's (Arjun Bijlani) feet with water
The upocming episode of Pardes Mein Hai Mera Dil will witness alot of twist and turns.
Naina makes all the arrangement for Sanjana's baby shower ritual.
Then she takes part in Sanjnana's baby shower being the daughter in law of Mehra house.
Later according to the ritual Veer has to wash the feet of his elder brother and take his blessings.
Veer furious as he had to wash Raghav's feet
So Daadi makes Veer wash the feet of Raghav and takes his blessings.
Naina gets happy seeing Veer washing the feets of Raghav as he always used to treat Raghav like servant.
Veer fumes in anger as Daadi makes him wash Raghav's feet.
Stay tuned for the upcoming twist.