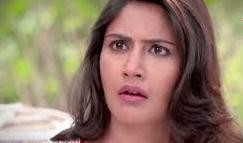 Ishqbaaz: Anika(Surbhi Chandna)-Shivaye(Nakkul Mehta) goes against Tej for supporting Jhanvi
The upcoming episode of Ishqbaaz will witness alot of twist and turns.
Tej gets furious over Jhanvi hearing Swetlana's accusation.
Swetlana blames Jhanvi for pushing her from stairs so Tej believes her and slaps Jhanvi for doing so.
Everyone get shocked seeing this and they get angry seeing that Tej trusts Swetlana instead of Jhanvi.
Anika attempt to prove Jhanvi's innocence before Tej
Anika and Shivaye has comes to know about Swetlana's evil intentions so they know that she is putting false accusation against Jhanvi.
So they support Jhanvi and raise their voices against Tej for slapping her even when she has not done anything wrong.
Anika try to prove Jhanvi innocent before Tej but he still thinks that Swetlana is saying the truth.
It will be interesting to see that what will ANika and Shivaye do now.
Stay tuned for the upcoming twist.