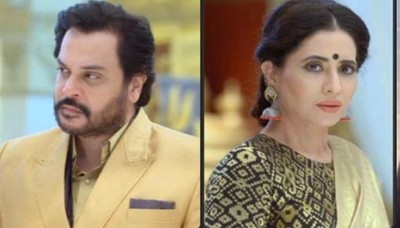 Ishqbaaz: Tej shocked as Swetlana accuses Jhanvi for pushing her from stairs
The upcoming episode of Ishqbaaz will witness alot of twist and turns.
Swetlana and Tia makes evil plan for creating rift amid Tej and Jhanvi.
Swetlana makes herself fall from stairs but then she accuses Jhanvi for making her fall from stairs.
Jhanvi gets shocked and try to prove herself innocent saying that she did not do anything.
Jhanvi shocked as Tej believes Swetlana
But Tej get furious and he does not believes Jhanvi, he know that she does not likes Swetlana so he thinks that maybe she has pushed her from stairs.
Tej slaps Jhanvi for hurting a person who is already injured and who saved his life.
Everyone gets shocked as well as angry because they know that Jhanvi cannot do anything like this.
Stay tuned for the upcoming twist.