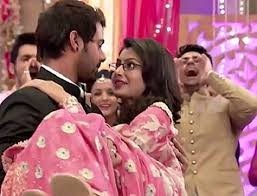 KumkumBhagya: Tanu upset seeing Abhi(Shabbir Ahluwalia)-Pragya's (Sriti Jha) couple dance
The upcoming episode of Kumkum Bhagya will witness alot of twist and turns.
Abhi-Tanu goes on a double date with Purab and Pragya.
They take part in competetion and then Abhi and Pragya becomes the best jodi.
Abhi makes Pragya wear tiara, Tanu gets upset as well as angry.
Abhi-Pragya becomes the best jodi
Tanu thinks that she does so many things to separate them but everything goes in vain and they come close to each other.
Aliya and Tanu are irked as they are not able to separate Abhi and Pragya, they are not able to stop their growing closeness.
Purab gets really happy as his plan of uniting Abhi-Pragya is working.
It will be interesting to see that what will Aliya and Tanu do now.
Stay tuned for the upcoming twist.