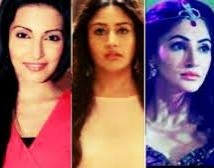 Ishqbaaz: Anika (Surbhi Chandna) finds Swetlana's hand behind attempting to kill Shivaye(NakuulMehta)
The upcoming episode of Ishqbaaz will witness alot of twist and turns.
Anika goes to Swetlana's room and there she sees that Swetlana's sandal is burnt.
Anika thinks that how her sandal got burnt, she goes outside her room and thinks that there is something fishy.
Then she understands that it is Swetlana who is trying to kill Shivaye.
Shivaye,Om and Rudr shocked knowing about Swetlana's evilness
Anika gets shocked and then she decides to expose her before Shivaye, Om and Rudra.
Anika goes and shows her sandal to Shivaye, Om and Rudra.
Anika proves that Swetlana was the one who was trying to kill Shivaye again and again, they get shocked.
It will be interesting to see that what will Shvaye do now with Swetlana after knowing her evilness.
Stay tuned for the upcoming twist.