Home
›
Gossip
PMHMD: Veer irked as Raghav saves Naina from wardrobe malfunction Upcoming Twist
Monday, January 09 2017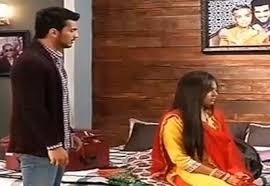 Pardes Mein Hai Mera Dil: Raghav (Arjun Bijlani) teaches a lesson to Veer's friends for making fun of Naina(Drashti Dhami)
The upcoming episode of Pardes Mein Hai Mera Dil will witness alot of twist and turns.
Naina and Raghav are busy in doing the preparations of Veer-Sanjana's marriage.
Naina makes beautiful rangoli just then she becomes the victim of wardrobe malfunction.
Veer and his friends make fun of Naina seeing her, Raghav sees this and gets angry.
Naina falls in Raghav's arms
Raghav teaches nice lesson to Veer's friends and then he goes to Naina for saving her from wardrobe malfunction.
Naina gets up and falls in Raghav's arms and they both share romantic eye lock with each other.
Then Raghav takes her inside the room and tells her about wardrobe malfunction.
Stay tuned for the upcoming twist.
» Pardes Mein Hai Mera Dil Latest News, updates
More Pardes Mein Hai Mera Dil Articles