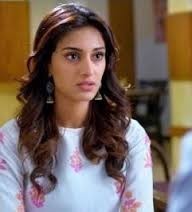 Kuch Rang Pyaar Ke Aise Bhi: Sonakshi (Erica Fernandes) decides to part ways with Dev (Shaheer Sheikh) for slapping her father Bijoy
The upcoming epsiode of Kuch Rang Pyaar Ke Aise Bhi will witness alot of twist and turns.
When Radha comes to know about Sourabh's loan issue then she creates scene in Dixit house.
Because of which Bijoy gets angry and he starts accusing Ishwari.
Dev on the other hand was trying to cool down the situation but he loses control over himself and slaps Bijoy.
Sona apologize Bijoy on Dev's behalf for insulting him
Everyone gets shocked and Bijoy goes with his family in anger.
Sonakshi goes behind them and spologizes on Dev's behalf.
But then she try to make Bijoy understand that Dev did not do anything intentionally.
Bijoy gets angry hearing this and he thinks that Sona is taking Dev's side.
So then he asks her to chose between him and Dev.
Sona finally chooses Bijoy over Dev.
Stay tuned for the upcoming twist.