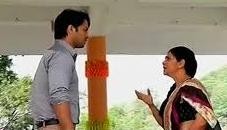 Kuch Rang Pyaar Ke Aise Bhi: Ishwari insecured with Dev's (Shaheer Sheikh) step of giving 5crore to Sourabh
The upcoming episode of Kuch Rang Pyaar Ke Aise Bhi will witness alot of twist and turns.
Radha instigates Ishwari after knowing that Dev has given 5 crore to Sourabh.
Radha brainwashes Ishwari and fills in her mind that Sona is taking Dev away from all the members of the family.
She made Dev give 5crores to his brother Sourabh and Dev did as Sona told him to do.
Ishwari calls Dev-Sona home urgently
Ishwari gets insecured hearing all this and Radha get successful in filling poision in her mind against Sona.
Ishwari decides to call Dev and Sona home urgenlty to talk about this matter.
Ishwari spoils Dev and Sonakshi's romance on vaccations and asks them to return home urgently, Dev-Sona shocked.
Stay tuned for the upcoming twist.