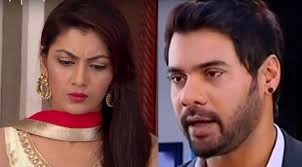 Kumkum Bhagya: Aliya-Tanu shocked as Pragya's (Sriti Jha) name revives Abhi's(Shabbir Ahluwalia) lost memory
The upcoming episode of Kumkum Bhagya will witness alot of twist and turns.
Purab comes to talk to Abhi and asks him to tell about his feelings for Pragya.
Purab also tells him that her real name is Pragya not Nikita.
Then he asks him to tell what if he feels for Pragya.
Abhi accepts having soft corner for Pragya
So then he confesses that he has a soft corner for Pragya, Purab get happy hearing this.
Abhi starts getting flashes after hearing Pragya's name.
Later he confronts Pragya and question that why did she hide her name from him so she gets shocked.
Pragya handles the situation and gives him some reason for hiding her name.
Abhi starts getting his lost memory back.
Stay tuned for the upcoming twist.