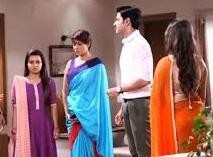 Jaana Na Dil Se Door: Ravish (Shashank Vyas) shocked as Vividha (Shivani Surve) saves Atharv from current in the wire
The upcoming episode of Jaana Na Dil Se Door will witness alot of twist and turns.
Men asks Atharv to do the hurdle race and before that they ask him to see the demo.
Then Atharv goes for doing the hurdle race after seeing the demo.
Kalindi fixes current wire to the rods, she wants to kill Atharv because of money and property.
Kalindi furious as Vividha ruin her plan to kill Atharv
Vividha sees that there is current in the rods, she rushes to save Atharv.
Vividha saves Atharv but she gets injured while saving him, Ravish gets shocked.
Kalindi gets irked as Vividha again spoiled her plan of killing Atharv.
Stay tuned for the upcoming twist.