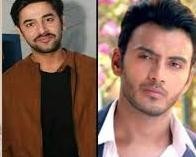 Jaana Na Dil Se Door: Ravish (Shashank Vyas) shocked post knowing that Atharv's (Vikram Singh Chauhan) life is in danger
The upcoming episode of Jaana Na Dil Se Door will witness alot of twist and turns.
Everyone gets shocked to know that Ramakant wanted to get Vividha and Atharv married because they both love each other alot.
Suman decides to leave home as she cannot stay with Sujata under one roof.
Sujata and Vividha requests her not to leave home but she does not hears to what they are saying.
Ravish rushes to save Atharv
But at last Vividha and Sujata stops Suman from leaving the house.
Later Atharv insists to drive the car but Ravish refuses still he goes in the car when Ravish goes from there.
Ravish comes to know that car's break is failed, he gets shocked and rushes to save Atharv.
Ravish fails to save him as his car meets with an accident.
Stay tuned for the upcoming twist.