Anupamaa: Vanraj heartfelt apology leaves Shah Family awestruck (Upcoming Twist)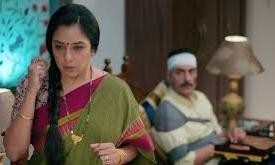 Anupamaa: Vanraj apologize to family
Star Plus show Anupamaa has hit the right chords of the audience.
It was earlier seen that Krinjal will come back to Shah House after her honey and gets shock.
She will plan to leave the house but Anupamaa will explain and change her mind.
Later Vanraj will be seen apologizing to his family for his bad behaviour and past mistake.
Vanraj will feel very sorry that due to him his family is going through this entire problem and he has become a guest in his own house.
Anupamaa on the other hand will get shocked to see the change in Vanraj and starts respecting him.
Vanraj feels unwanted in Shah House
Will the family be able to accept Vanraj or not?
Will Anupamaa and Vanraj be able to unite or not?
Keep hooked to this site for more updates.