Choti Sardarni: Meher slaps Tarkash Arti turns table (Upcoming Twist)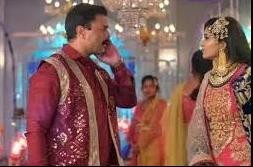 Choti Sardarni: Meher disappointed by Arti
Choti Sardarni is currently focussing on domestic violence.
It seems that Meher has come to know that Tarkash is physically and mentally harassing his wife and daughter.
She will get very angry with Tarkash for disrespecting his wife and making things difficult for her.
Meher will get emotional and slaps Tarkash in front of everyone.
Sarabjit will get pissed off with Meher for crossing her limits and raising hands on a loyal employee.
Later on, when Meher will ask Arti to testify against Tarkash she will back off and instead supports her husband.
Arti will reveal that she has met Meher first time today in her life and even praises her husband in front of everyone.
Sarabjit rebukes Meher's bold move
Will Meher be able to expose Tarkash or not?
Stay tuned for more updates.