Choti Sardarni: Meher Sarabjit Qawalli competition plus love revelation ahead (Upcoming Twist)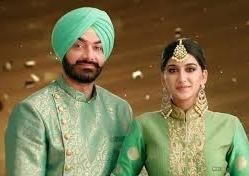 Choti Sardarni: Meher Sarabjit cute moments ahead
Choti Sardarni is based on the story of a young brave girl named Meher.
It seems that Meher will organise a New Year party at her house.
Sarabjit will organise a Qawalli competition and will throw a challenge on Meher.
However Meher will not want to sing and dance as she is in no mood.
Sarabjit on the other hand will hurt himself with candle so that Meher is forced to compete with him.
Meher is left with no option but to be a part of the competition.
Later on Meher will win the competition and leave the entire house delighted.
Sarabjit and Meher will enjoy some romantic time with each other as well.
Meher Sarabjit jugalbangi ahead
Will Meher and Sarabjit be able to see the new enemy entering their house?
Stay tuned for more updates.