Kumkum Bhagya: Rhea fails to share Abhi with Prachi huge siyappa ahead (Upcoming Twist)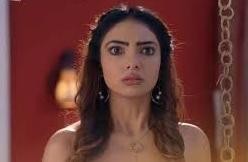 Kumkum Bhagya: Rhea not able to share Abhi with Prachi
Zee TV's Kumkum Bhagya will witness some major twist and turns in the upcoming episodes.
It seems that Rhea will come to know that Pragya is her mother and Prachi is her twin sister.
This will leave a huge impact on Rhea as she is not able to accept the fact that Abhi has another daughter.
Rhea is not able to share her father with anyone as she is very possessive over him.
On the other hand Pragya feels that its time Prachi should know the truth about her father.
Rhea keeps Prachi away from Abhi
Will Prachi be able to unite with her father?
Will Prachi accept Abhi as her father?
Stay hooked with us to know what will happen in Zee TV's show Kumkum Bhagya.