Choti Sardarni: Sarabjit signs on custody papers gives Karan away Meher shocked (Upcoming Twist)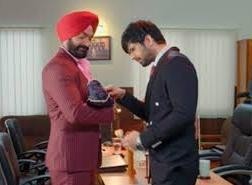 Choti Sardarni: Sarabjit gives away Karan to Vikram
Choti Sardarni is witnessing lots of ups and down in the upcoming episodes.
It seems that Sarabjit will not be able to see his sister's life going through hell and hence does the unthinkable.
He will sign on Karan's custody papers and gives his full custody to Vikram.
Meher will get the biggest shock of her life as she did not expect that sarabji will take sucha move and give away Karan.
Finally Vikram's plan will work as now he has his son as well as created a rift between Meher and Sarabjit?
Meher will get disappointed by Sarabjit and not agree to his decision.
Meher burst out at Sarabjit
Will Vikram succeed in his planning and plotting?
Will Sarabjit be able to get his son back?
Stay tuned for more news and gossips.