Yeh Rishta Kya Kehlata Hai: History repeats itself Kairav runs away from house meets fatal accident (Upcoming Twist)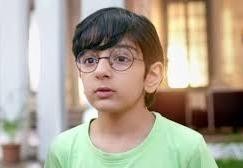 Yeh Rishta Kya Kehlata Hai: Kairav meets with sudden accident
Yeh Rishta Kya Kehlata Hai is currently focusing on Kartik and Naira's parenting challenges.
It seems that Gayu will get mad at Kairav for harming Vansh and making him paralyzed.
She will threaten to call the police and creates havoc in Goenka house.
Kairav will get very scared as he knows that Naira as throw him behind the bars just as Luv and Kush.
Kairav will hence leave the house just like Naira had left her house many years back due to misunderstanding with Akshara.
Kartik and Naira will be running behind Kairav to stop him but just then a truck will come and hit him from behind.
Kairav left handicapped forever
Will Kartik and Naira be able to save Kairav?
Let's see what more is going to happen in Yeh Rishta Kya Kehlata Hai only on Serialxpress.com.