Anupamaa: Anupamaa ashamed Vanraj identifies Kavya as Kavya Vanraj Shah (Upcoming Twist)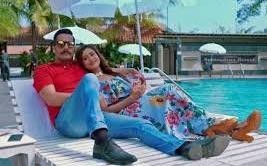 Anupamaa: Anupamaa catches Vanraj Kavya red handed
Star Plus' show Anupamaa is breaking all records and has turn out to be the most successful shows of all time.
It seems that Anupamaa and the entire Shah Family will come to the same resort for picnic as Vanraj and Kavya.
She will get the biggest shock of her life when she will see Vanraj and Kavya as a honeymoon couple in the resort.
Kavya will write her name as Kavya Vanraj Shah that will leave Anupamaa in shock.
Anupamaa will sulk in sorrow as Vanraj has snatched her identity from her and given it to Kavya.
Anupamaa makes shocking decision
Will Anupamaa be able to forgive Vanraj or not?
Will Vanraj be able to realize his mistake or not?
Keep reading this site for more exciting news and updates on Serialxpress.com.