Choti Sardarni: Aditi attempt suicide Harleen calls police gets Vikram arrested (Upcoming Twist)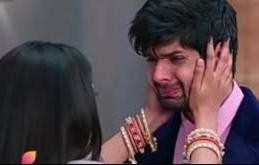 Choti Sardarni: Aditi to commit suicide Vikram held responsible
Choti Sardarni is a beautiful story about a young brave Punjabi girl and her husband.
It was earlier seen that Vikram will inform Sarabjit that he is not in love with Aditi and wants to part ways with her at any cost.
Aditi will overhear the conversation and gets upset.
She will slit her wrist in front of everyone and tries to commit suicide.
Shockingly Harleen will call the cops and gets Vikram arrested as she feels that Vikram mentally tortured her to take such a huge step.
Vikram will get shock as he has been accused to kill his own wife.
However Sarabjit will handle the situation and stop Vikram from going behind the bars.
Sarabjit efforts to unite Vikram Aditi
Will Vikram be able to understand his mistake or not?
Stay tuned for more updates.