Yeh Rishta Kya Kehlata Hai: Gayu gets Kairav arrested for Vansh's accident Goenka's shocked (Upcoming Twist)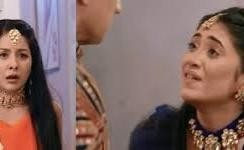 Yeh Rishta Kya Kehlata Hai: Gayu vents out anger on Kairav
Yeh Rishta Kya Kehlata Hai is one of the most famous and watched shows of Star Plus.
It was earlier seen that Vansh will not be able to move his legs due to the accident.
Gayu will be devastated as she will not be able to believe her eyes.
On the other hand Gayu will overhear Kartik and Nara discussing that might be Kairav is behind Vansh's accident.
Gayu will go to Kairav and questions him about his act of hurting Vansh.
She will further threaten Kartik and Naira that she will call the cops and get Kairav arrested.
Gayu anger out of control Kairav in shock
Will Gayu be able to know the truth or not?
Let's see what more twist and turns are still left in Kartik and Naira's life.