Sanjivani 2: Sid Ishani's sensuous dance twist solves misunderstanding (Upcoming Twist)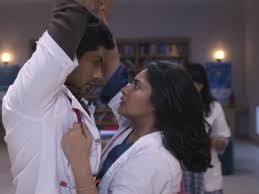 Sanjivani 2: Sid (Namit Khanna) and Ishani's (Surbhi Chandna) sensuous dance twist ends misunderstanding
Star Plus popular daily soap Sanjivani 2 is gearing up for new twist and drama.
Sid and Ishani's misunderstanding seems to gear up to next level.
Sid and Ishani's misunderstanding will create new dhamaka as Ishani will slap Sid.
Rishabh is playing his game and now Ishani has no mentor and no doctor is ready to take her understand himself.
Sid and Ishani's dance twist
Ishani is all shattered and out of Sanjivani and now Shashank asks Sid to get Ishani back.
Sid thus takes an extra effort and marks entry in Ishani's house and here also Ishani is shouting at him.
Sid sets the song and pulls Ishani near to him and dances with her and now he asks Ishani to think as why he will do it and will make Ishani realise that Rishabh and Vardhan are playing this game.