Kahaan Hum Kahaan Tum: Rohit reveals Pooja's adoption secret to Sonakshi (Upcoming Twist)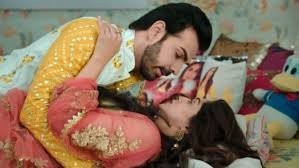 Kahaan Hum Kahaan Tum: Rohit (Karan V Grover) reveals Pooja's adoption secret to Sonakshi (Dipika Kakar)
Star Plus popular daily soap Kahaan Hum Kahaan Tum is gearing up for new twist and drama.
Rohit and Sonakshi's life is getting complicated day by day, here Sonakshi is in search of Rohit.
Sonakshi and Rohit manages to runaway from Mahatre's trap but lands up in trouble.
Sonakshi and Rohit gets stuck in cold storage where they suffers the cold, here Sonakshi is shivering in cold.
Rohit and Sonakshi's hug of love
Rohit comes and hugs Sonakshi and tries to share warmth of love, while this moment gets Rohit and Sonakshi closer.
Rohit and Sonakshi feels that love and care, while now Rohit ends up revealing to Sonakshi that he knows what all she did for Pooja.
Rohit unveils to Sonakshi that Pooja is adopted and they love her like part of family, Rohit reveals his family secret to Sonakshi.