Ek Bhram Sarvagun Sampanna: Pooja accepts defeat infront of Kabir (Upcoming Twist)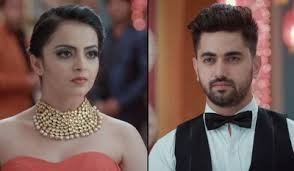 Ek Bhram Sarvagun Sampanna: Pooja (Shrenu Parikh) accepts defeat infront of Kabir (Zain Imam)
Star Plus popular daily soap Ek Bhram Sarvagun Sampanna is up for interesting turn in story.
Pooja has got her mother and is all emotional, Pooja's mother is taken away by mental asylum and thus Pooja goes after them.
Pooja goes after the ambulance and soon she misses the ambulance and reaches hospital to inquire about her mother.
The hospital refuses to have got any lady like that and Pooja had once again lost her mother.
Kabir threatens Pooja
Pooja is all shattered while here she gets a call, Pooja gets a call which mentions that he has her mother.
It is Kabir who tells Pooja that her mother is with him and now he blackmails Pooja to marry him to get her mother free.
Will Pooja accept Kabir's this shocking condition and gives up infront of Kabir.