Gathbandhan: Raghu in dilemma Maya Dhanak's kabadi challenge (Upcoming Twist)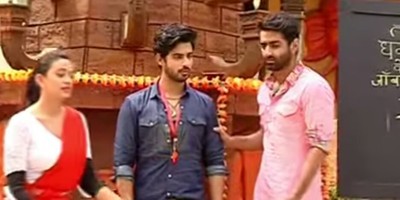 Gathbandhan: Raghu (Abrar Qazi) in dilemma, Maya and Dhanak's (Shruti Sharma) kabadi challenge
The upcoming episode of Colors popular daily soap Gathbandhan is gearing up for new twist and drama.
Raghu and Dhanak's life seems to go through major turmoil, Maya and Savitri are leaving no stone unturned.
Maya and Savitri now plans a new trap, which is for Dhanak and thus Maya challenges Dhanak for kabadi challenge.
All ladies gangs up as team for the kabadi challenge and here Dhanak, Maya are fighting for Raghu and creates fuss.
Raghu and Maya's kabadi challenge
Raghu is worried for Dhanak and here Maya, Savitri are planning against Dhanak and Raghu is well aware and tries to warn her.
What more drama and dhamaka awaits ahead in Raghu, Dhanak's life, will they be united together after what all happened.
Stay tuned for more exciting updates of the upcoming episodes only on serialxpress.com