Kahaan Hum Kahaan Tum: Sonakshi takes oath to stay away from Rohit and Sippy's (Upcoming Twist)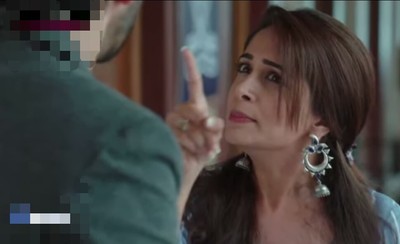 Kahaan Hum Kahaan Tum: Sonakshi (Dipika Kakar) takes oath to stay away from Rohit (Karan V Grover) and Sippy's
The upcoming episode of Star Plus popular daily soap Kahaan Hum Kahaan Tum is gearing up for new twist and drama.
Sonakshi is hurt with what Sippy family had done, Suman is arrested because of the watch she had already returned.
Here Rohit comes to Sonakshi's rescue and gets Suman out of jail as he makes Nishi take her complaint back.
Rohit tries to apologize to Sonakshi and Suman but of no use, here Sonakshi asks Rohit to never show his face again.
Rohit and Sonakshi's clash
Sonakshi makes promise to Suman that she will not keep any relationship with Rohit or Sippy's.
Rohit's all attempts to apologize and meet Sonakshi flops drastically and he feels bad over what all is happening.
Stay tuned for more exciting updates of the upcoming episodes only on serialxpress.com