Patiala Babes: Babita's first step of love amaze Hanuman (Upcoming Twist)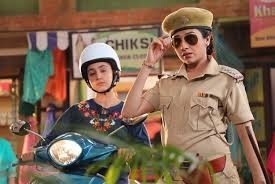 Patiala Babes: Babita's (Paridhi Sharma) first step of love amaze Hanuman (Anirudh Dave)
Sony Entertianment Television popular daily soap Patiala Babes is gearing up for new twist and drama.
Babita ahs got Ashok out of jail and kicks him out of his life and ends all relationships which were still left in heart.
Babita tells Ashok that now she is free from all chords that were remaining amid them and asks him to go away.
Babita tells Ashok that it is all possible because of her daughter Minni and true friend like Hanuman Singh.
Hanuman is amazed to see how Babita had taken first step of love towards him and this gives him happiness.
Babita's first step of love
Hanuman now wants Babita to express what she feels for him and how much she loves him.
What more drama awaits ahead in Hanuman and Babita's life and will Babita accept this.
Stay tuned for more exciting updates of the upcoming episodes only on serialxpress.com