Ek Bharm Sarvagun Sampanna: Kabir takes Pooja's all insult via secret mission (Upcoming Twist)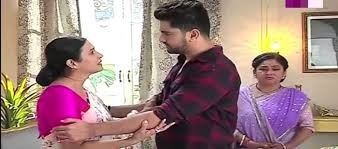 Ek Bharm Sarvagun Sampanna: Kabir (Zain Imam) takes Pooja's (Shrenu Parikh) all insult via secret mission
Star Plus popular daily soap Ek Bhram Sarvagun Sampanna is gearing up for new twist and dhamaka.
Kabir and Pooja had bitter face off and here Pooja offers job to Kabir but with intentions to insult him.
Here Kabir takes it even though Dhruv and family stops him, while Kabir has bigger mission.
Kabir tells Dhruv that they needs to keep friends close but enmies closer to understand them well and destroy them.
Kabir takes Pooja's all insult
Kabir thus joins Sharma company with a motive to find links to pooja's weakness and ways to defeat her in her own game.
Kabir is smart enough to play his trick while here Pooja is also taking it as a battle.
Stay tuned for more exciting updates of the upcoming episodes only on serialxpress.com