Ishq Subhan Allah: Zara Kabir's fire dhamaka twist of love (Upcoming Twist)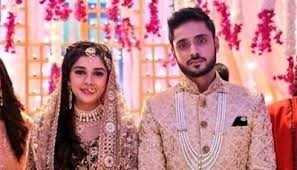 Ishq Subhan Allah: Zara (Eisha Singh) and Kabir's (Adnan Khan) fire dhamaka, twist of love
Zee TV's popular daily soap Ishq Subhan Allah is gearing up for new drama and dhamaka.
Zara and Kabir are united for a good cause and here they finds a shocking truth.
Zara learns that Rizwan is promoting child labor in his factory and she decides to speak up against this
Zara decides to stop this illegal activity and thus has a plan, while Rizwan will flop her plan.
Rizwan's fire breakout plan for Zara
Rizwan is ready to kill Zara to shut her mouth and plan a fire breakout in factory and thus stuck Zara in it.
Zara and Kabir will be shocked as Zara gets locked inside the factory and Kabir has no way out to save her.
Stay tuned for more exciting updates of the upcoming episodes only on serialxpress.com