Tujhse Hai Raabta: Moksh's kidnapping turns deadly for Kalyani Anupriya (Upcoming Twist)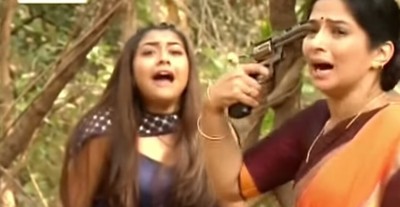 Tujhse Hai Raabta: Moksh's kidnapping turns deadly for Kalyani (Reem Shaikh) and Anupriya (Poorva Gokhale)
The upcoming episode of Zee TV's popular daily soap Tujhse Hai Raabta is up for high voltage drama.
Kalyani is all broken as Moksh is kidnapped and asks Malhar to get her son Moksh back.
Malhar assures Kalyani that everything will be fine while Kalyani is restless and here she gets a call.
This caller asks Kalyani to reach the location he asks her and here he instructs Kalyani to shoot herself.
Moksh's kidnapping syappa
Kidnapper plays game with Kalyani and asks her to shoot herself to see her son Moksh safe and Kalyani keeps pistol on her forehead and was about to shoot.
Anupriya reaches there and stops Kalyani and takes in her hand and challenges the kidnapper that she will shoot herself.
Stay tuned for more exciting updates of the upcoming episodes only on serialxpress.com