Gathbandhan: Dhanak's muhdikhayi ceremony love twist for Raghu (Upcoming Twist)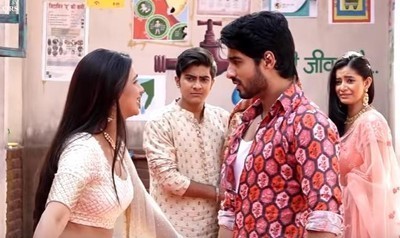 Gathbandhan: Dhanak's (Shruti Sharma) muhdikhayi ceremony love twist for Raghu (Abrar Qazi)
The upcoming episode of Colors popular daily soap Gathbandhan is up for high voltage drama.
Dhanak has realise that she has misunderstood Raghu and insulted his gift which he has earned by hard work.
Dhanak apologize to Raghu and tells that may be she needs more time to accept all.
Raghu tells Dhanak that he is ready to do anything what it takes just wants her to trust him.
Raghu and Dhanak's twist of love
Dhanak's muhdikhayi ceremony begins and here Raghu is all happy that Dhanak is slowly accepting him.
Maya and Savitri are not happy to see this step of love amid Raghu and Dhanak.
What more drama to unfold up next in Raghu and Dhanak's life post this drama amid muhdikhayi ceremony.
Stay tuned for more exciting updates of the upcoming episodes only on serialxpress.com